FRP skylight panel has been the staple of HIGOAL since 1996. HIGOAL is one of the earliest manufacturer of FRP skylight panel in China.
HIGOAL skylight panel is coated with 250um ISO-phthalic polyester gel coat on the surface, and our engineers believe that it fundamentally solved the problem of FRP fiber exposure.
Higoal FRP enterprise, in Guangdong province, was the early manufacturer on fiberglass skylight panel for industrial construction, being a lighting experts in this field. Due to its excellent aging resistance, corrosion resistance and temperature resistance characters, it is praised as the most potential light-transmitting materials in light steel construction projects.
Earnest promise: HIGOAL FRP skylight panel, which being produced in and after Nov.,2013, is all with protective gel coat.


The greenest energy is those which is saved. One sheet of skylight panel in area of 5m2, can save appr. 3300 KW per year. In the aspect of energy saving and environmental protection, FRP skylight panel is the only right choice for large-span industrial plant, warehouse, and other large venues.

Skylight panel options:
Higoal FRP standard skylight panel


HIGOAL FRP special skylight panel -- fire retardant panel





Higoal FRP skylight panel features:


1). Excellent yellowing and weathering resistance of FRP panel. The aging of the FRP panel is generally caused initially by the surface discoloration and fiber exposure, which also cause the reduction of light transmittance. The 250um gel-coating resin on skylight panel solves the problem of fiber exposure fundamentally.
2). Exceptional thermal stability: FRP panel belongs to fiber reinforced thermo-setting material. It doesn't become embrittled in coldness, neither melt in hotness. It can be used for long-term at ambient temperature of -30 ℃ to + 110 ℃.
3). Excellent impacting resistance and low deflection enable FRP roof panel to withstand attack of hailstone or strong typhoon.
4). Self-cleaning performance. With "lotus effect", the FRP panel surface doesn't keep the dirt on.
5). The thermal expansion coefficient of FRP is basically the same as that of steel, so that the displacement caused by temperature difference is basically same. Therefore, it reduces the water leakage problem caused by the cracking on drilled part, and the deformation of the roof panel.
6). Humanistic design: FRP is a heterogeneous material, it can refracts direct light into scattered light, making the dazzling sunlight softer. It make the light evenly distributing indoor, and creates a more comfortable environment. The direct light from other panel(eg. PC) easily causes eyes fatigue, and aging discoloration on floor or subjects indoors.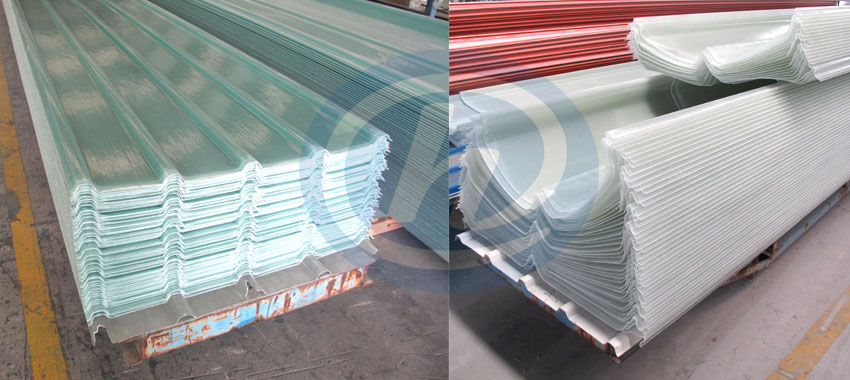 Design on Higoal FRP skylight panel
1、FRP skylight panel sections:
HIGOAL has more than 200 types of corrugated panel section, which almost cover and match all the colored steel tile in the market. HIGOAL also customizes panel according to your sectional design.
Common sectional profile:
830#



760#




2. The design of skylight panel & purlin span:
FRP skylight panel is mainly used for roof daylighting band, The purlin distance is usually determined by color steel plate section, and its wind pressure resistance ability, and snow bearing parameters.
≤1.0mm thk skylight panels are suitable to be base plate of double-layer skylight roofing for nursery garden, greenhouse.
1.2mm thk skylight panels fit color steel plate at thickness of ≤0.476mm.
1.5mm thk skylight panels fit color steel plate at thickness of 0.476~0.6mm.
3.0mm thk skylight panels are suitable for large-purlin-span building.

3. Design on transparent rate of FRP skylight panel:
Take skylight panel at transparent rate of 65% for example, with consideration on geographical factors, a lighting rate of 11% is recommended in South China area( eg. Higoal plant roofing is at lighting rate of 11%), and 15% in the southwest and northeast China. A proper lighting rate will increase the softness and comfort of sunlight. According to the function, and industry characteristics of plant, lighting rate can be selected in between 8% to 18%. (Note: excessive lighting rate will cause overheat in summer.)

4. Design on FRP skylighting distribution:


During installing, if you use other installing methods, please contact our engineering & technology department for more professional advice.

5、FRP skylight panel installing design:




6. Design on FRP arch lighting:


The following figure is the application case of FRP fiberglass skylight panel on arc roof and the suggested maximum curvature



Note: excessive bending may lead to internal stress, which will reduce panel life span.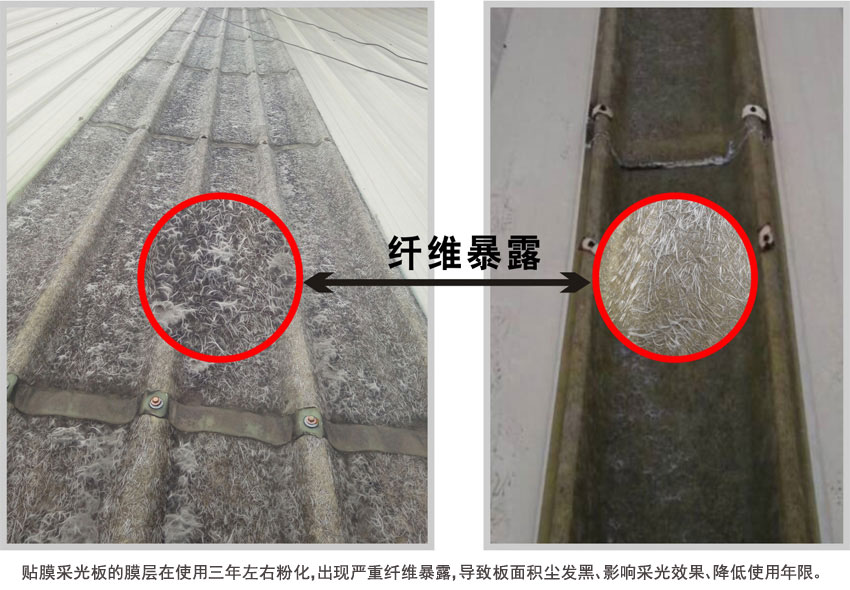 The filmed skylight panel become chalked after being used for around three years, and on which there is severe fiber exposure. It causes discoloration and dust accumulation on the surface, and further damages the lighting effect and service life.



Higoal FRP skylight roofing panel installation


The greatest advantage of Higoal FRP skylight panel is the profession and ease of use. From raw material, matching with color steel tile, processing of node, overlap parts, to transporting method, Higoal Has improved and optimized repeatedly, to simplify constructing and ensure accurate installation.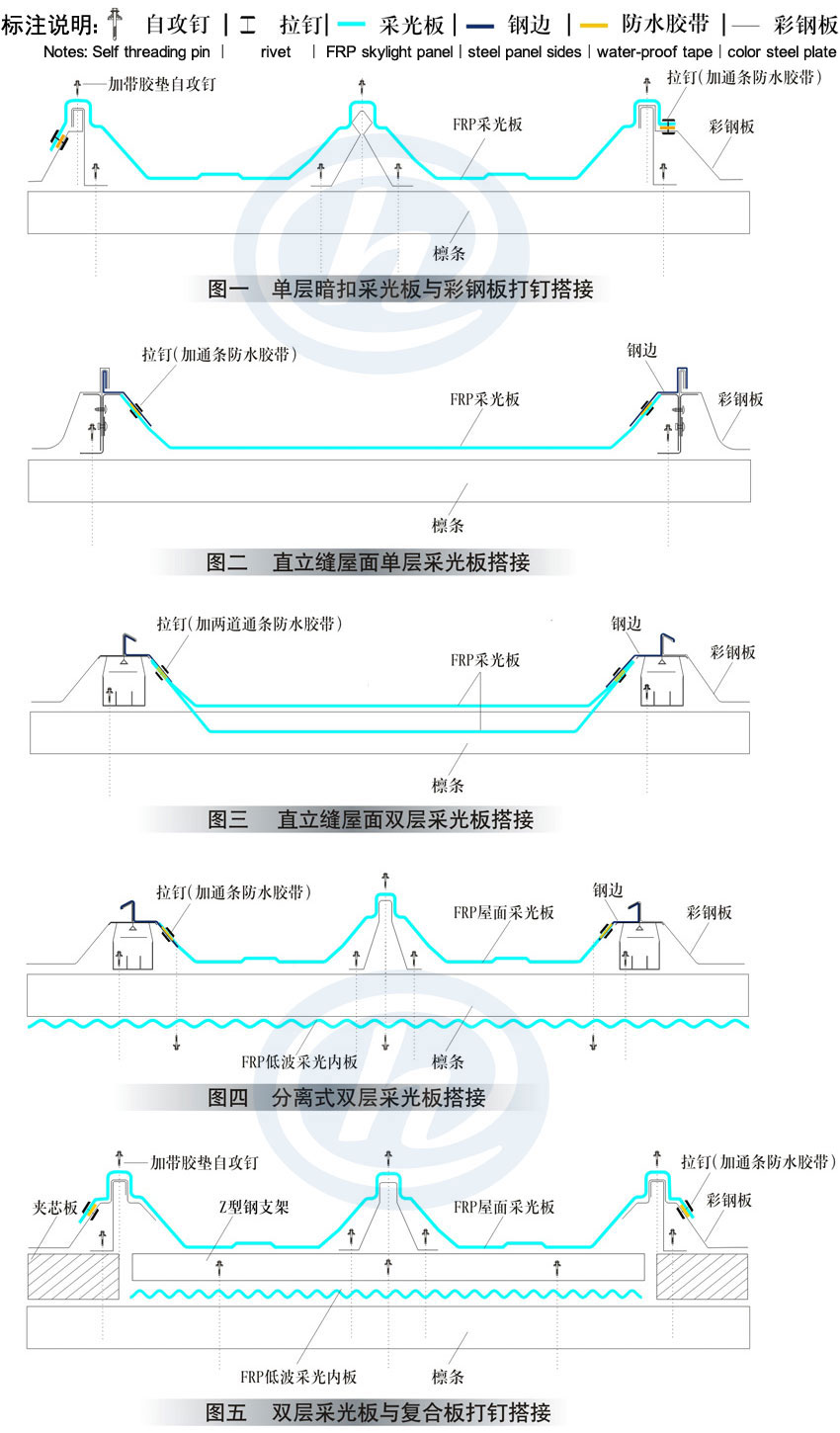 Instructions for loading & unloading and warehousing:


Fiberglass skylight panel is designed as a anti-weathering lighting products, therefore, it should be much careful in loading & unloading, storaging, and installing. It might affect the durability in the event of improper operation.